Anita Gratzer
Grewing up in the Austrian pre-alps, Anita Gratzer has been working as a photographer since her childhood.

As a highly decorated photo artist with a diploma from the University of Arts in Linz, she started her career in 1990s. Traveling in Asia and America, Anita Gratzer was working at first on her series  "Human Time Anatomy" and "Fragmented Gods" in Berlin, Vienna and Krakow.

In 2014, after maternal leave, Anita Gratzer exhibits a body of work that articulates her memory of lost stories, interest in Eastern traditions and forges links between them and the world as it is experienced today. Mourning the narratives that she finds, Gratzer first preserves in the process of her work the printed fragments of antique books by transferring them into a new condition. Constructing clothes and sculptures out of these historical artefacts of a gone-by era, she simultaneously deals with hermetic narratives and analogue materiality.
When she recaptures the depicted scene in a post-process and communicates the result by changing the chemical layers of the crystalline structure of the film by scratching, bleaching and drawing on its surface, she goes beyond photography. Using the materiality, destroying it and digging mirror-inverted and color-inverted through the image's physical layers, she erases the unique moment of photography and interweaves her inner expectation without any optical prosthesis.

By adapting historical works of art with gestures of classical motifs, reality is reproduced and translated into a fading, distorted, mythological, elusory and alienating representation.
In this sense, it is not about a valid model, it is about modelling and thinking in possibilities, it is about designing and not about claiming. Behind the expressive portraits, we see a fragile artist whose eccentric methods of enquiry serve as a pattern of her special vitality to bring painting and photography into a more coherent union.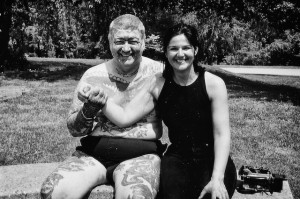 Anita Gratzer, Jack Dracula 1998 – Philadelphia